October 29-30, 2019 | New York
Sooner Than You Think
The Path Forward for Tech
Breakthroughs like 5G, artificial intelligence, cloud computing and the internet of things are upending the way we live, work and play. They also present the technology industry with both opportunity and obligation. How do disruptors foster innovation while also ensuring that its benefits are shared widely and equitably? How can Silicon Valley use the rivers of digital data gathered on its platforms to improve lives and build businesses while also preventing privacy loss, threats to civil discourse and a widening of social, racial and economic divisions?
October 29 - Tuesday
6:30 pm
Special Session: Dinner and Evening Program
The Power of Data: Sooner Than You Think
Proudly sponsored by IDA Ireland
On October 29 from 6:30 pm until 8:30 pm, Bloomberg presents an exclusive dinner and evening program to kickoff Bloomberg's global technology conference, Sooner Than You Think, The Path Forward for Tech.
The age of big data is upon us. Data provides insight into consumers' actions and attitudes and holds the power to transform industries. Data has the potential to drive real change beyond business – from combating ocean pollution to aiding medical breakthroughs. How do we separate hype from reality regarding big data? How can your company leverage data to solve problems and positively impact the world?
The stakes are high. As companies collect infinite amounts of consumer data, what is the responsibility to protect sensitive data for the public good? Where do we draw the line?
The Power of Data: Sooner Than You Think will convene leaders on the front lines grappling with these issues and taking action to move the technology industry forward.
Limited seating is available for this exclusive dinner and program. Separate registration is required. To inquire about attending, email us at blive@bloomberg.net.
Speakers
October 30 - Wednesday
8:00 am
Registration and Networking Breakfast
9:00 am
Welcome
Speakers
Caroline Hyde

Anchor, Bloomberg Television

Brad Stone

Senior Executive Editor, Global Tech; Sooner Than You Think Editorial Co-Chair, Bloomberg
9:05 am
The Role of Technology in Society
9:25 am
Unleashing Opportunities: Innovation with a Sustainability Focus
The quest for new markets and revenue streams while also confronting some of the most pressing issues of our time, from climate change to inequality, amplify the need for innovative and sustainable solutions that boost the bottom line while also serving society. What is the strategic framework for identifying and implementing these solutions? What are the biggest trends at the intersection of technology and sustainability?
Speakers
Alexa Dembek

Chief Technology & Sustainability Officer, DuPont

Vince Digneo

Sustainability Strategist & Global Head of Sustainability, Adobe
9:45 am
Top Tech Trends to Watch
We'll highlight the trends and industries prominent venture capitalists are investing in now.
Speakers
10:05 am
How to Prevent a Data Breach
We'll discuss the best ways to protect your data and systems in the age of rampant cybersecurity attacks.
Speakers
10:55 am
The Next Wave in Retail
We'll discuss how Verishop positions itself as the anti-Amazon.
Speaker
11:15 am
The Role of Government in Data Privacy
The General Data Protection Regulation (GDPR) has been hailed as the most important change in data privacy in the past two decades. Should the U.S. create a single and comprehensive standard? How will the California Consumer Privacy Act, which goes into effect in January 2020, impact the urgency for a comprehensive standard?
Speakers
11:35 am
The Evolution of Foursquare
We'll discuss Foursquare's evolution, how the company uses customer data responsibly and the future of location-based technology.
Speaker
11:55 am
Privacy-Focused Product Design
We'll discuss how to construct an internet and internet of things that are not based on collecting data and surveillance.
Speakers
1:30 pm
Artificial Intelligence: Reality vs Hype
We'll separate the facts from fiction regarding artificial intelligence and how companies can leverage this emerging technology for a competitive advantage.
Speaker
2:10 pm
Spotting a Deepfake Video
We'll discuss the prevalence of deepfake videos and how this technology can be used to manipulate the public. How can we detect false content?
Speaker
2:30 pm
Protecting Democracy: Counting Down to 2020
A frank discussion on the vulnerabilities of our electoral system and what must be done to protect the integrity of the upcoming presidential election.
Speakers
3:20 pm
Disrupting Real Estate
Speaker
4:00 pm
The Future of Mobility
We'll discuss how the ridesharing service Via works with cities to create affordable transportation options that reduce congestion and emissions.
Speaker
5:00 pm
Networking and Cocktail Reception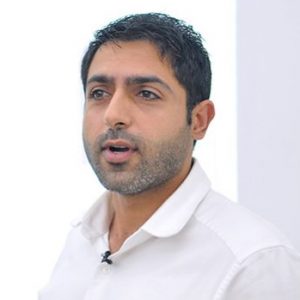 Shamir Allibhai
CEO & Founder
Amber Video
Michael Beckerman
President and CEO
Internet Association
Mignon L. Clyburn
Former FCC Commissioner
MLC Strategies, LLC Principal
Alexa Dembek
Chief Technology & Sustainability Officer
DuPont
Vince Digneo
Sustainability Strategist & Global Head of Sustainability
Adobe
Noelle Eder
Chief Information and Digital Officer
Hilton
Andrew Farah
Founder & CEO
Density
Jamil Farshchi
Chief Information Security Officer
Equifax
Jeff Glueck
CEO
Foursquare
Megan Gray
General Counsel and Head of Policy
DuckDuckGo
Natalie Hwang
Managing Director
Head of Simon Ventures
Caroline Hyde
Anchor
Bloomberg Television
Imran Kahn
Co-Founder & CEO
Verishop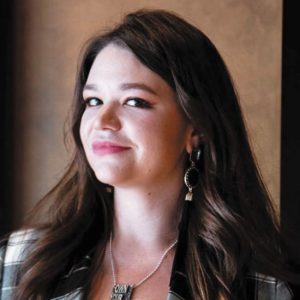 Brittany Kaiser
Co-Founder
Digital Asset Trade Association
George Kurtz
CEO & Co-Founder
CrowdStrike
Harry Moseley
Chief Information Officer
Zoom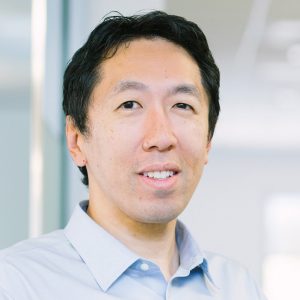 Andrew Ng
Founder & CEO
Landing AI
Andy Ozment
Chief Information Security Officer and Head of Technology Risk
Goldman Sachs
DJ Patil
First U.S. Chief Data Scientist & Head of Technology
Devoted Health
Daniel Ramot
Co-Founder & CEO
Via
Robert Reffkin
Founder & CEO
Compass
Brian Schimpf
Co-Founder and CEO
Anduril Industries
Wendy Schmidt
President of The Schmidt Family Foundation and Co-founder
Schmidt Ocean Institute
Mandeep Singh
Senior Analyst Technology
Bloomberg L.P.
Brad Stone
Senior Executive Editor, Global Tech; Sooner Than You Think Editorial Co-Chair
Bloomberg
Georgia Weidman
Founder & Chief Technology Officer
Shevirah
Elizabeth Zalman
Co-Founder & CEO
strongDM
Sponsors
Presenting Sponsor
After more than 200 years of innovation, DuPont is entering a new era of discovery. Our community of scientists, engineers, visionaries and all of our partners are working every day to turn possibilities into real world answers that help humanity thrive. DuPont is a global innovation leader with technology-based materials, ingredients and solutions that help transform industries and everyday life. Our employees apply diverse science and expertise to help customers advance their best ideas and deliver essential innovations in key markets including electronics, transportation, construction, water, health and wellness, food and worker safety. More information can be found at www.dupont.com.
Supporting Sponsor
IDA Ireland is Ireland's inward Investment Promotion and Development Agency has a track record of 70 years in attracting foreign direct investment to Ireland.  The agency partners with overseas companies to secure new investment in Ireland and collaborates to assist companies expand their existing footprint in Ireland.
IDA Ireland works with a portfolio of over 1400 overseas company operations in Ireland across a myriad of industry sectors from Technology, Life Sciences, International Services and Financial services. Today 7 of the top 10 global technology companies,  all of the top 10 Pharmaceutical companies and 19 of the world's top 25 Financial Services companies have established operations in Ireland.
These companies employ almost 230,000 people in Ireland, the highest level on record.
To find out Ireland is the right place for your business, log on to www.idaireland.com or follow us @IDAIRELAND
Supporting Sponsor
Invesco is an independent investment management firm dedicated to delivering an investment experience that helps people get more out of life. NYSE: IVZ; www.invesco.com. Invesco is the provider of QQQ, one of the earliest and largest ETFs in the industry. QQQ trades on the Nasdaq Stock Market where innovation and technology expertise have created a world-recognized marketplace for the world's biggest and best technology companies.