December 2-3, 2019 | New York City
The Global Responsible Investing Forum
Join us for the second annual Global Responsible Investing Forum in New York City, convening senior global leaders for conversations about how responsible investing can maximize performance while providing positive social impact.
Monday, December 2: What's Next in Responsible Investing?
A look at the newest data and trends impacting the institutional market.
Tuesday, December 3: Who is the Responsible Investor?
Gather insights into the evolving profile of individual investors interested in making a difference.
December 2 - Monday
1:00 pm
Registration and Networking
1:45 pm
What's Next for Responsible Investing?
How is responsible investing evolving as it becomes more mainstream, and what is the shifting role of institutional investors? In this session, we'll discuss the key trends and themes that are impacting the responsible investment landscape and how to drive profit with purpose.
Speakers
2:15 pm
Spotlight on: Purpose in the Workplace
In a recent Deloitte survey, 63 percent of employees under 35 said they feel the primary purpose of business should be improving society instead of generating profit. With employee activism on the rise, we'll examine how companies can harness the power of the purpose generation to drive values-based results.
Speaker
2:30 pm
What's Next for Trends Driving Demand?
Demand for responsible investing is on the rise, with one quarter of all professional assets in the US being managed using responsible investment strategies. We'll discuss the key trends driving interest in this approach, including employee activism, corporate purpose and faith-based investing.
Speakers
3:05 pm
What's Next for Impact Investors?
As impact investing evolves, so do the opportunities and solutions to create a positive impact through investing. We'll analyze how shifts in the market, such as increased activity, technological advances and access to more capital have created new innovations for impact deals and what these developments mean for institutional investors.
Speakers
4:05 pm
Spotlight on: How AI is Transforming RI
AI has been shown to have a substantial impact on moving the needle forward on high-profile ESG topics, from helping to prepare for natural disasters to improving climate scenario analysis and to better channeling capital to deliver on the Paris agreement targets. Our presenter will highlight some of the innovative ways that AI is being used to inform responsible investing.
Speaker
4:20 pm
What's Next for Climate Action?
Climate-related risks are too far-reaching for investors to avoid. They impact all sectors, and require tangible actions to address these issues.  Accurate, insightful data is critical to responding effectively to these risks through impact investing.  We'll discuss how cutting edge technologies are helping us to better understand climate risk and how investors can use data to inform their long-term strategies and progress towards the UN SDGs.
Speaker
4:55 pm
What's Next for Sin Stocks?
December 3 - Tuesday
8:15 am
Breakfast and Registration
9:15 am
Who is the Responsible Investor?
Women and millennials have been the early leaders in the responsible investing movement, but new populations of responsible investors have started to emerge, including baby boomers and retirement plan investors, further opening opportunities for growth in this space. We'll take a data-focused look at the evolving profile of the responsible investor and how shifting priorities are driving growth in RI.
Speakers
Farnoosh Torabi

Financial Journalist

Lily Trager

Executive Director, Director of Investing with Impact , Morgan Stanley Wealth Management
9:50 am
What Turns Interest into Sales?
Now that you've identified the target audience, how do you begin the conversation and translate consumer interest into RI product sales? We'll discuss how understanding the economic decision making of your clients can drive further demand for RI.
10:15 am
Spotlight on: RI Online Platforms
Emerging technologies have been innovating the way that supply meets demand in RI. In this spotlight, we'll examine the use of online investing solutions for RI.
10:30 am
When do you Innovate?
Once you've identified the demand for responsible investing, how do you select the right products for your platform? We'll explore the solutions and technologies needed to ensure RI opportunities are easily accessible to all investors.
11:30 am
Town Hall: Ask the Experts
You have questions about responsible investing? We have answers. This session will bring together experts we've heard from throughout the day to answer your questions about the who, what, where, when, and how of responsible investing.
12:05 pm
What Creates a Purpose Driven Company?
For the first time in decades, Business Roundtable has updated their definition of a company's purpose to go beyond just serving shareholders to serving the benefit of all stakeholders – customers, employees, suppliers, communities and shareholders. We'll sit down with a top CEO to discuss how they created a corporate social purpose that aligns with their brand identity and appeals to consumer needs.
Vijay Advani
CEO
Nuveen
Sir Ronald Cohen
Chairman
Global Steering Group for Impact Investment and The Portland Trust
Daniela Pierre Bravo
Producer
NBC Universal
David Heath
CEO
Bombas
Josh Zinner
CEO
Interfaith Center on Corporate Responsibility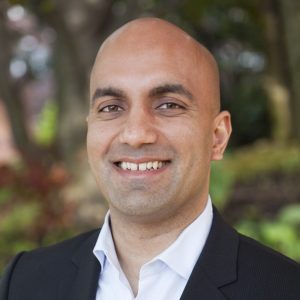 Amit Bouri
CEO & Co-Founder
GIIN
Rekha Unnithan
Managing Director, Impact Investing
Nuveen
Jackie VanderBrug
Managing Director, Head of Sustainable and Impact Investment Strategy
Bank of America
Hendrik Bartel
CEO and Co-Founder
Truvalue Labs
Stephen M. Liberatore
Responsible Investing Fixed Income Portfolio Manager
Nuveen
Farnoosh Torabi
Financial Journalist
Lily Trager
Executive Director, Director of Investing with Impact
Morgan Stanley Wealth Management
Founding presenter
Nuveen, the investment manager of TIAA, offers a comprehensive range of outcome-focused investment solutions designed to secure the long-term financial goals of institutional and individual investors. Nuveen has $967 billion in assets under management as of 3/31/18 and operations in 16 countries. Its affiliates offer deep expertise across a comprehensive range of traditional and alternative investments through a wide array of vehicles and customized strategies. For more information, please visit www.nuveen.com.