March 8, 2019 | New York City 
Inspired Investing: 
Helping Women Achieve Financial Stature
Gen X and baby boomer American women control more than 60 percent of all personal wealth in the U.S, make 85 percent of all consumer purchases and are a significant demographic for investors. Furthermore, as boomers retire and downsize over the next three decades they'll transfer $30 trillion in assets to their heirs; their financial choices will have a major impact on all of America's economy. Despite these statistics, women invest 40 percent less than men.
Bloomberg will convene financial leaders and senior executives to address how the male dominated financial advisory industry can further evolve, ways in which the sector can attract more female financial advisers, and engage and empower more women to invest their assets responsibly.
Susan Docherty
Canyon Ranch
Chief Executive Officer
Sylvia Kwan
Ellevest
Chief Investment Officer
Richard McVey
MarketAxess
Founder, Chairman and Chief Executive Officer
Yie-Hsin Hung
New York Life Investment Management
CEO
Cheryl Young
Morgan Stanley Wealth Management
Managing Director, Senior Portfolio Management Director
Gregg Keele
Acuitas Financial Group
Private Wealth Advisor and Managing Partner
Elizabeth Weikes
J.P. Morgan Securities
Executive Director and Financial Advisor
Nicole Sawyer
Bloomberg
Programming Director
Laura Kane
UBS
CIO Wealth Management Research
Lucinda Baier
Brookdale Senior Living
President and Chief Executive Officer
Holly Newman Kroft
Neuberger Berman
Managing Director
Peggy Collins
Bloomberg News
U.S. Investing Team Leader
Katia Porzecanski
Bloomberg
Reporter
Jeanna Smialek
Bloomberg
Economics Reporter
Ben Steverman
Bloomberg
Wealth Reporter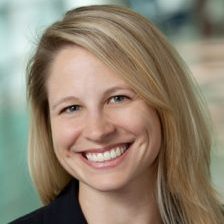 Jessie Szymanski
LendingClub
Head of Investor Marketing & Strategy
Sponsor
New York Life Investments, the global asset management arm of New York Life Insurance Company, is built on the enduring foundation of New York Life's long and stable 173-year history. With $544 billion in assets under management (as of December 30, 2018), New York Life Investments offers retail and institutional investors access to specialized, independent investment boutiques, with capabilities across virtually all asset classes, market segments and geographies. Through this combination of a long-term orientation and the diverse perspectives of its boutiques, New York Life Investments is committed to building lasting relationships with its clients by providing dedicated service and building flexible solutions that help them achieve their strategic goals.
New York Life Insurance Company (www.newyorklife.com), a Fortune 100 company founded in 1845, is the largest mutual life insurance company in the United States* and one of the largest life insurers in the world. Headquartered in New York City, New York Life's family of companies offers life insurance, retirement income, investments and long-term care insurance. New York Life has the highest financial strength ratings currently awarded to any U.S. life insurer from all four of the major credit rating agencies**.
*Based on revenue as reported by "Fortune 500 ranked within Industries, Insurance: Life, Health (Mutual)," Fortune magazine, 6/1/18. For methodology, please see http://fortune.com/fortune500/
**Individual independent rating agency commentary as of 7/30/2018: A.M. Best (A++), Fitch (AAA), Moody's Investors Service (Aaa), Standard & Poor's (AA+)