June 6, 2019 | Washington,  D.C.
The Rise of 5G:
Empowering the Next Enterprise Evolution
People often focus on the consumer market benefits of 5G — the enhanced speed, higher quality video streaming and efficiency — but the advancement in wireless connectivity also presents a whole new set of opportunities and challenges for the enterprise.
From IoT to augmented reality and autonomous driving, 5G wireless networks could bring automation to almost every industry. Health care, manufacturing, transport and even media will be transformed. Companies need to be prepared, which is why Bloomberg convenes senior executives to discuss the learning curve for organizations and their leaders.
5G has the capability to support smart vehicles, remote robotic surgery and improve mobile workforce connectivity, a challenge many companies are eager to overcome. But just as email and bank accounts can be hacked, so can cars, airplanes and robotic surgeons. The need for security is paramount. From architecture to regulation we'll examine the evolution of WAN and obstacles ahead. Join the conversation this June on how we break through barriers to make the 5G revolution a reality.
June 6 - Thursday
8:00 am
Registration & Networking Breakfast
9:05 am
5G The New Innovation Era
Business leaders can't afford to overlook emerging mobile enterprise opportunities, as they may be fundamental to cut costs, enhance productivity and drive a higher ROI. While consumers are likely to drive demand for 5G devices, connectivity promises to be a major force in enterprise adoption and it's up to the enterprise to kickstart the 5G Era.
Bloomberg convenes senior executives to discuss how 5G could transform organizations and the world as we know it. What are the learning curves for organizations and their leaders? What are the risks and concerns associated with adopting mobile enterprise network architecture? Are there risks if they don't? Equally important, once 5G arrives, how will enhanced capabilities empower innovations like drones, VR and connected cars to transform entire industries?
Speakers
Lynn Comp

VP and GM for the Visual Cloud Division in the Data Center Group, Intel

Christian Sanz

CEO and Founder, Skycatch

Eric Stine

Chief Innovation Officer, SAP North America
Moderator
9:35 am
The Wireless Workforce
As 5G wireless networks roll out, new connectivity will empower workers like never before. Health care, manufacturing, transport and media — no sector will be left unturned.
Whether it's increased productivity from better more collaborative video conferencing  or faster more reliable transmission of business critical data from the field, we'll examine how 5G's fast speed, bandwidth and low-latency will transform the job market.
Will more companies shift to shared work spaces or relocate as telecommuters continue to grow? How do companies ensure clients and employees interact in a meaningful way in this environment? People will be replaced by robots, saving companies billions, but this transition will create jobs too. Which skills will be in the highest demand? How do you ensure AI doesn't replace entire workforces? And how will front line workers ensure they are not left behind by technology?
Speakers
John Godfrey

Senior Vice President, Public Policy, Samsung Electronics America, Inc.

Susan Lund

Partner, McKinsey & Company

Igor Popov

Chief Economist, Apartment List
Moderator
10:05 am
The Reality of 5G
Bloomberg Intelligence Presentation on potential powerful real life use cases for 5G. Could this new technology be a game changer across industries. How will companies be disrupted?
Speaker
John Butler

Senior Telecommunications Analyst , Bloomberg Intelligence
10:20 am
Overcoming Roadblocks to Takeoff
5G promises to be more transformative than its predecessors, however before this technology can be implemented on a massive scale there are major hurdles to overcome.  5G requires towers, small cells and fiber to function. Security, safety and regulation are a concern.
Network slicing could be the single most attractive feature of 5G, as it allows carriers to set up multiple virtual networks on a single physical network. But rules on net neutrality could block these plans.
From infrastructure challenges, to security and regulation, senior executives will discuss the roadblocks we must overcome today to make 5G a reality in the future.
Speakers
Moderator
11:00 am
Event Concludes & Networking
Alisa Parenti
Bloomberg Radio
Anchor & Reporter
Lynn Comp
Intel
VP and GM for the Visual Cloud Division in the Data Center Group
Christian Sanz
Skycatch
CEO and Founder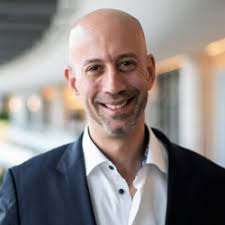 Eric Stine
SAP North America
Chief Innovation Officer
John Godfrey
Samsung Electronics America, Inc.
Senior Vice President, Public Policy
Susan Lund
McKinsey & Company
Partner
Igor Popov
Apartment List
Chief Economist
Joan Doniger
Bloomberg
Radio Broadcaster
John Butler
Bloomberg Intelligence
Senior Telecommunications Analyst
John Apostolopoulos
Cisco
CTO of Enterprise Networking Business
Ulf Ewaldsson
T-Mobile
Senior Vice President of Technology Transformation
Sue Monahan
Small Cell Forum
Chief Executive Officer
Presenting Sponsor
T-Mobile for Business brings the Un-carrier experience to customers unwilling to settle. With a network that now covers 99% of Americans, the nation's most advanced 4G LTE, and in hot pursuit of nationwide 5G, T-Mobile continues solving industry painpoints and has businesses of all sizes ready for the future of wireless.