New York City | April 9, 2018
The Modern CFO:
Leading Your Company's Digital Transformation
Leading your company's digital transformation
Financial decisions are being driven by data, most lines of business have moved to the cloud, and CFOs are being forced to embrace the IT agenda, as more operations become automated. How does The Modern CFO collaborate through this technological disruption and how is it impacted by a changing society? Bloomberg convenes CFOs, across industries, to hear and share insights during this exclusive dinner and networking program.
April 9 - Monday
6:00 pm
Registration and Networking Reception
7:00 pm
Welcome Remarks
Moderator
Tom Giles

Executive Editor, Global Technology, Bloomberg
7:15 pm
To Build, Buy, or Borrow? -- That is the Question
From artificial intelligence to ERM platforms, the increased rate at which tech is changing business is also speeding up the need to make decisions. On top of that, the customer base has evolved to be a more social, mobile and demanding consumer. As executives are faced with how to transform their businesses, deciding whether to borrow, buy or build these emerging technologies is one that many grapple with daily. In order to better understand which strategy to execute on and when, we'll feature a chief executive who can speak to how digital disruption is driving their biggest decisions.
Moderator
Speaker
7:40 pm
Presentation: Rethink Your Business for the Digital Age
Every business begun before the Internet now faces the same challenge: How to transform to compete in a digital economy? David Rogers argues that digital transformation is not about technology—it's about upgrading your strategic thinking. Drawing on case studies from Domino's to Caesar's Casino, and Toyota to The New York Times, Rogers shows how traditional businesses need to rethink their approach to strategy in five domains—customers, competition, data, innovation, and value. David will prepresent on the practical framework to help you rethink your own business—to unlock growth in the digital age.
Speaker
David Rogers

Professor at Columbia Business School, Author of The Digital Transformation Playbook
8:00 pm
Collaboration in the Cloud: Evolving Roles of the C-Suite
In a climate where technology is driving businesses, chief financial officers, and chief information officers can no longer afford to run parallel. Financial decisions are being driven by data, most lines of business have moved to the cloud, and companies across industries are facing significant cyber threats while trying to protect customer data. CIOs are increasingly becoming stakeholders in business decisions, and CFOs are looking to embrace the IT agenda as more operations become automated. We'll gather top executives across industries to understand how technological disruption is transforming C-suite alliances and businesses at the highest level.
Moderator
Speakers
8:30 pm
Closing Remarks, Networking
Tom Giles
Bloomberg
Executive Editor, Global Technology
Mark Hurd
Oracle Corporation
Chief Executive Officer
Caroline Gage
Bloomberg News
Executive Editor Global Finance
Frank Bisignano
First Data
Chairman and Chief Executive Officer
David Rogers
Professor at Columbia Business School, Author of The Digital Transformation Playbook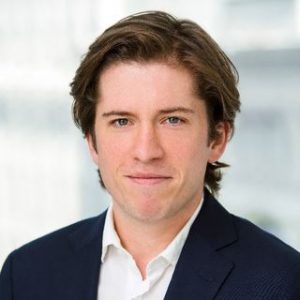 Max Chafkin
Bloomberg Businessweek
Features Editor
Abu Bakar
Chobani
Chief Information Officer
Rachel Glaser
Etsy
Chief Financial Officer

Oracle is a global provider of enterprise cloud computing, empowering businesses of all sizes on their journey of digital transformation. Oracle Cloud provides leading-edge capabilities in software as a service, platform as a service, infrastructure as a service, and data as a service.
Oracle helps customers develop strategic roadmaps and advance their journey to the cloud from any point: new cloud deployments, legacy environments, and hybrid implementations. Oracle's complete, integrated approach makes it easy for companies to get started in the cloud and even easier to expand as business grows. Oracle's application suites, platforms, and infrastructure leverage both the latest technologies and emerging ones—including artificial intelligence (AI), machine learning, blockchain, and Internet of Things (IoT)—in ways that create business differentiation and advantage for customers.
Today, 430,000 customers in 175 countries use Oracle technologies to seize business opportunities and solve real, tangible challenges. Oracle supports customers on every step of the digital journey, with consulting, financing, support, and training services.
Enterprises can innovate faster, improve customer engagement, drive business process efficiency, and accelerate digital transformation with Oracle Cloud. Oracle is the enterprise technology partner that positions companies for tomorrow, today.
For more information about Oracle, visit us at oracle.com.